PLANTALG IRON COMPLEX
PLANTALG IRON COMPLEX is formulated on a fertilizing basis of natural marine extracts rich in oligo-saccharides. This extract has the ability to complex iron organically and make it much more effective, even at low doses. The resulting Marine Poly-Ferrous Complex contains iron in its bivalent form, which is considered easier for plants to assimilate. It works in particular by stimulating the enzymatic phytoresistance system and the chlorophyllian enzymatic system. Suitable for organic farming according to Regulation (EC) N°834/2007.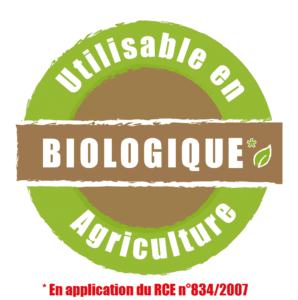 Of all the trace elements, Iron is the one that plants need most. It is necessary for the formation of chlorophyll (without being a constituent), and it is a catalyst for many enzymes. It is also activator of several physiological processes such as respiration, photosynthesis and symbiotic fixation of Azote and promotes the reduction of nitrates.
Sprayed on the leaves at the beginning of the onset of the disease, PLANTALG IRON COMPLEX allows an early and effective fight against chlorosis of the vine. In addition, this fertilizer also provides many elements present in the extract of algae (minerals, proteins, organic molecules, trace elements, growth promoters: cytokinin-like, auxines).
Benefits:
Iron Concentrate (Fe).
Complex of natural marine extracts.
Better assimilation of natural elements.
Product code: 1614
Standard: EC FERTILIZER
Description
Culture
Conditioning
Description
COMPOSITION:
The composition of liquid formulations is given in P/V (%).
Trace element:
Iron (Fe): 6.25%
Natural marine extracts
Density: 1.26
APPLICATION:
– Arboriculture
– Great crops
– Market gardening
– Vine
Packaging:
Drum 5L (Palette 480L)
Drum 10L(Palette 600L for France and 750L for export)