FUBOPLANT 5-5-8 SK
FUBOPLANT 5-5-8 – 2 MgO is an organic fertilizer rich in NPK nutrients and trace elements providing an indispensable balance for the quality of production. Suitable for organic farming according to Regulation (EC) N°834/2007.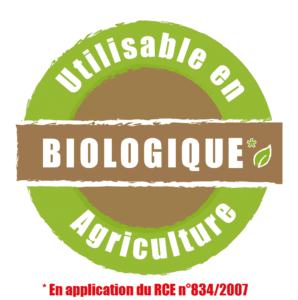 FUBOPLANT 5-5-8 – 2 MgO is suitable for fast-growing crops (maraîching, red fruits..) As well as potassium-intensive crops. (Vignes, orchards, tobacco..)
Interest in organic matter in this formula:
In soil, organic matter performs many agronomic and environmental functions:
– It ensures the storage and availability of the nutrients it needs for the plant by mineralization.
– They stimulate biological activity, being both a source of energy and nutrients for soil organisms.
– It has a central role in soil structuring and contribute to its stability vis-à-vis external aggressions (rain, settlement, etc.) by limiting water erosion.
– They promote soil warming (darker colouring of organic matter).
Benefits:
High organic matter rate.
Stimulating the biological activity of the soil.
High nutrient intake.
The quality of the productions is the focus.
Product code: 3263
Standard: NFU 42-001
Minimum order imposed.
Description
Culture
Conditioning
Description
COMPOSITION:
Nitrogen (N) Total: 5.00%
Of which 5.0% Organic nitrogen
Phosphorus pentoxide (P2O5): 5.00%
Potassium Oxide (K2O): 8.00%
Magnesium oxide (MgO): 2.0%
Total Trance elements: 0.2%
Organic matter: 60.0%
Dry material: 92.0%
C-N: 6.0
Humidity: 8%
pH: 6.4
Pellet with a diameter of: 3 mm
APPLICATION:
– Arboriculture
– Market gardening
– Vine
Packaging:
25kg bag (Palette 1.25T)
500kg big bag