n-remant
NUTRITION INFO: NITROGEN FOLIAR NUTRITION WITH VERAISON
---
Vine: nitrogen fertilization to improve the quality of musts and aromas!
Brought to the foliage after the growth stoppage (mid-veraison), nitrogen is directed to the fruit. This results in an increase in nitrogen fractions (including assimilable nitrogen) in the must, as well as a higher content of aromatic precursors. Recent work shows that a high level of nitrogen (N) in grapes is one of the factors that favors the presence of varietal thiols in wines, especially white and rosé.
Foliar nitrogen spraying is not incompatible with reasoned fertilization and grassing, which allow better management of vigour and its sanitary status. On the other hand, reasoned fertilization and grassing can deplete the soil with nitrogen. Foliar nitrogen fertilization at the end of the cycle, from mid-veraison, makes it possible to enrich the grapes with nitrogen without modifying the primary metabolism of the plant.
NITROGEN OR NITROGEN + SULFUR?
Choosing a nitrogen or nitrogen-sulfur spray allows you to choose an aromatic profile of your wine:
Fruity and amyl profile = foliar nitrogen spray
The use of nitrogen by foliar to veraison makes it possible to increase the content of assimilable nitrogen in the must: the average gain observed, compared to an untreated vine, is +50% for 10 nitrogen fertilizer units. All nitrogen fractions of the must are improved.
Profile dominated by varietal thiols = foliar spraying of nitrogen + sulphur
The combination of nitrogen and sulfur makes it possible to produce more varietal thiols in wines. Musts are richer in glutathione and cysteine precursors of aromatic compounds. In the end, the wines from the pulverized vines have on average 3 to 5 times more thiolated compounds. This technique is therefore very strongly influential to produce aromatic wines.
Our solutions:
FRUIT AND AMYL PROFILE: UREAFOL N°7
UREAFOL N ° 7 is a liquid nitrogenous foliar N 30-0-0 combining 2 forms of nitrogen in balanced proportions.
Interests of UREAFOL N°7:
Urea nitrogen for a fast

UF nitrogen (urea formaldehyde) for gradual release over time

High nitrogen content

Fruity and amyl profile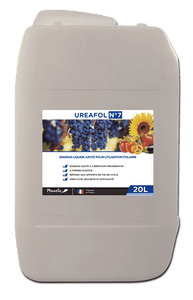 PROFILE DOMINATED BY THE VARIETAL THIOLS: UREAFOL N°1
UREAFOL N ° 1 is a liquid foliar nitrogenous N + S + Mg 20-0-0 all urea.
Interests of UREAFOL N°1:
Urea nitrogen for a fast

N+S Synergy

Contribution of magnesia that improves photosynthetic activity

Significant varietal thiol gain

High nitrogen content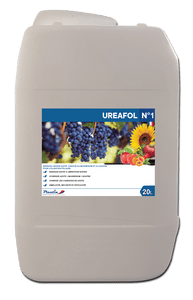 FOLIAR NITROGEN FOR USE IN ORGANIC FARMING*: FOLIAPLANT NATURE 800
FOLIAPLANT NATURE 800 is an N+OE liquid foliar for a durable nitrogenous.
Interest on FOLIAPLANT NATURE 800:
Organic nitrogen of plant origin

Contribution of trace elements

Nutrient elements assimilated quickly for superior efficiency!
*pursuant to the RCE n°834/2007