PLANTALG COMPLEX OLIGOS
PLANTALG COMPLEX OLIGOS is a concentrate of trace elements for preventive and curative treatments of leaf spray deficiencies, which can be used in organic farming1.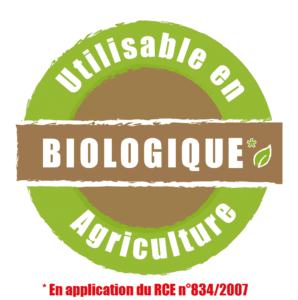 Useful micronutrients, present at very low doses in plant tissues, are essential fertilisers:
Boron plays an important role in the structure of cell walls, fruiting and seed development. It is also involved in protein synthesis and carbohydrate metabolism. Boron is involved in pollen formation and fertility. It promotes the absorption of potassium, phosphorus, magnesium and other cations.
Iron is necessary for chlorophyll formation, plant respiration (oxygen transport) and the formation of certain proteins.
Manganese is involved in photosynthesis and chlorophyll production. It helps activate enzymes involved in the distribution of growth regulators in the plant.
Molybdenum plays an important role in the metabolism of nitrogen inside the plant.
Zinc is important in the early stages of growth and in seed formation.
Benefits:
An essential addition to the development of your complete nutritional solutions.
Ready-to-use cocktail, easy to use.
Contains all the essential trace elements.
Enriched with iron.
Product code: 1611
Standard: EC FERTILIZER
1according to Regulation (EC) N°834/2007.
Description
Culture
Conditioning
Description
COMPOSITION:
The composition of liquid formulations is given in P/V (%).
Trace elements:
Boron (B): 0.2200%
Iron (Fe): 2.1800%
Maganese (Mn): 0.5450%
Molybdenum (Mo): 0.0330%
Zinc (Zn): 0.5450%
Natural marine extracts
Density: 1.09
APPLICATION:
– Arboriculture
– Great crops
– Market gardening
– Vine
Packaging:
Drum 5L (Palette 480L)
Drum 10L(Palette 600L for France and 750L for export)