PLANTALG BORON
PLANTALG BORON is a sodium borate solution combined with natural marine extracts for leaf application that can be used in organic farming1.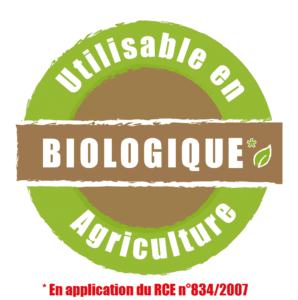 PLANTALG BORON is a liquid fertilizer that activates the knotting of fruit trees in arboriculture, viticulture and vegetable crops. It is formulated from a natural marine extract harvested on the Breton coast and enriched with mineral boron.
The natural extract contained in PLANTALG BORON concentrates natural marine active ingredients that stimulate the assimilation of nutrients especially boron, essential trace of flowering, knotting and quality both internal and external of the fruit.
Boron plays an important role in the structure of cell walls, fruiting and seed development. It is also involved in protein synthesis and carbohydrate metabolism. Boron is involved in pollen formation and fertility. It promotes the absorption of potassium, phosphorus, magnesium and other cations.
PLANTALG BORON therefore guarantees a homogeneous and better quality harvest with calibers increased at harvest.
Benefits:
Rich in boron B.
With natural marine extracts.
Corrects deficiencies or deficiencies in boron.
Product code: 1608
Standard: EC FERTILIZER
1according to Regulation (EC) N°834/2007.
Description
Culture
Conditioning
Description
COMPOSITION:
The composition of liquid formulations is given in P/V (%).
Trace element:
Boron (B): 2.15%
Natural marine extracts
Density: 1.07
APPLICATION:
– Arboriculture
– Great crops
– Market gardening
– Vine
Packaging:
Drum 5L (Palette 480L)
Drum 10L(Palette 600L for France and 750L for export)